Our guest information / tourist information centre can be found at the Wiesenthaler K3, Karlsbader Straße 3. Here you will find up-to-date information, brochures, hiking maps, souvenirs and much more.
We look forward to your visit!
Guided tours of the museum for 8 persons or more are also possible outside opening hours by arrangement.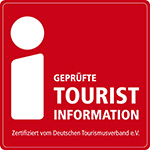 Opening hours of the guest information, daily 9:30am – 5:00pm
On 24 December, 31 December and on 01 January, the guest information is open from 9:30am - 1:00pm.